Welcome to our persuasive speech topics for college mega list! Use our list of persuasive and controversial speech ideas as a first resort: however, you are much more likely to be find a topic when you choose a subject that genuinely interests you, which you can relate. The idea is that speaking about something you know very well makes it easier and more fun!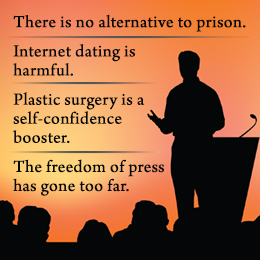 Persuasive Speech Topics
Here's a great list of perfect persuasive speech topics to help convince others to come over to your way of thinking, which then leads to them taking a particular course of action. These persuasive speech topics for college students can be controversial, new topics from 2015, about health, school, relationships and more!
Is global warming real or not real?
Should a single parent be able to adopt a child? (yes/no)
Does human cloning go against morals or morality?
The reforming of the school system
College network should have filters to prevent access of inappropriate materials.
Doctor-assisted suicide should (or should not) be legal.
Every student should (or should not) be required to learn a foreign language.
Solar power is (or is not) a viable alternate energy source.
American workers should (or should not) be guaranteed a three-day weekend by law.
Immigration into the U.S. should (or should not) be restricted.
Want us to pick a topic for you and write about it?
Request a free quote!