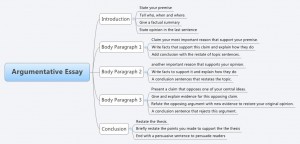 Structuring an Argumentative or Persuasive Essay
A persuasive essay starts with a writer's attempt to convince readers of the truthfulness or validity of a particular topic, opinion, or related to a controversial issue. The following steps should help you write a argumentative/persuasive essay.
1. Strategically choose a topic that interests you. An argument does not have to be a pressing issue, but it must be something that is debatable or anything you feel strongly about.
2. Identify the controversy – the writer's introduction and starting point should clarify the controversy or issue. Once you have this – your thesis will state your position or interpretation on the issue. This means you will need to take a stand on the issue.
3. Provide evidence and help – the body paragraphs will need to provide specific support. These arguments may include information from personal experience, statistics, examples, facts, or expert opinions or thoughts. These may be curated from television shows, books, newspapers, textbooks, studies, or interviews and magazines.
4. The writer must include enough details to support your current position; however, facts that are relevant must strongly be supported.
5. Consider changing opinions A persuasive essay may be differ or be strengthened by acknowledging conflicting viewpoints and refuse to accept them.
6. Provide a strong conclusion and restate your viewpoint using different techniques from the introduction paragraph. Never introduce any new material in the conclusion. Always conclude with some type of call to action for the reader.
Posted

by