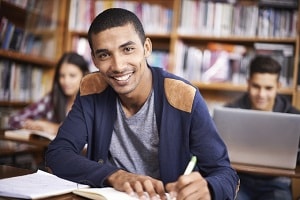 Whether you're a professional teacher or the parent of a student, giving any student some one-on-one academic attention brings with it some big challenges. How do you know you're not just "giving them the answer"? What do you do when your student stares blankly back at you after you ask a question, and is it possible the student just isn't trying hard enough? The sources of this article is eclectic, and has been derived from a database of local tutors, which will guide you in your tutoring style, for the benefit of both you and the student.
College Success Guide For Students
Set a time limit. This is important for both you and the student–you want to help the student, but it's also important that you set boundaries. This might mean that you help the student with the introduction or first few paragraphs, and then let them work on the next few sections. Let the student know that they can still follow up with you if they have questions later, but that ultimately they need to be responsible for their own work. Be reasonable, of course. If this is your first session with a student or if you know they tend to take a little more time to digest new information, plan accordingly.
Ask questions. This is what is called the "Socratic method." It means that in order to guide students towards an answer, you ask them questions, whether or not you yourself know the answer. With writing, this often means that a student can detach themselves briefly from what is actually written on the page and clearly explain to you what it is they are trying to say. You can then encourage them to write down exactly what they just said to you. Take notes during the session to help ground the ideas that the student is trying to convey.
Have the student read the text aloud. If the content is mostly finished and you're mostly concerned with sentence-level errors at this point, have the student read their work paragraph by paragraph. Follow along with them, and make note of any recurring errors. The student will likely realize a sentence sounds awkward once he or she reads it out loud, as sometimes the ears can be more intuitive than the eyes.
Be encouraging, and try not to get too bogged down with what the professor or teacher wants. Comments from the professor are certainly helpful, and a rubric for the content is the most helpful at all, but try to avoid the pitfall of imagining what the professor would "like." This can often derail a tutoring session, as the student will pull themselves away from their own writing and mentally pick the brain of their professor and what topics the professor likes best. Chances are, your professor or teacher mostly cares that your student can write clearly and persuasively. If the student cares about the topic and thinks that the subject is important, then they are more likely to be committed to writing a great essay.
Don't proofread the student's work. Although it can be tempting, try to avoid proofreading while the student passively sits there writing. You want the student to direct the session for writing, so ask them about any specific areas of the essay they had trouble writing. Only put in the effort that your student is willing to give–if the student expects you to do all the work and skim through their content with a red pen, then you're not really helping them. In order to make sure all areas of the research assignment are covered, ask the student to describe their organization and then begin writing an outline based on what they tell you. Tutoring is a team effort, and ultimately you want the student the benefit as much as possible from the session–which won't happen if you mark off changes they need to make on their assignment without explaining why.
Over everything else, the student's writing progress should be your top priority. By keeping the above guidelines in mind as you help your student with his or her schoolwork, you are allowing them to take control of the session and of their writing. This will contribute to long-term learning. You might even learn new things during your tutoring sessions, as tutoring can challenge you to explain concepts you may have never considered before–and therefore you can improve your own long-term learning.
Posted

by